The Aesthetic Meeting 2019 in New Orleans
On behalf of the American Society for Aesthetic Plastic Surgery (ASAPS) and the Aesthetic Surgery Education and Research Foundation (ASERF), it is our great pleasure to invite you to attend The Aesthetic Meeting 2019 in New Orleans! Our annual global gathering of innovators and aesthetic experts is designed for those surgeons passionate about connecting with brilliant minds, learning about ground-breaking advances, and building a successful practice. Our goal is for you to return home with renewed passion, enhanced skills, and ideas for professional growth.

We would like to bring your attention to two key happenings at The Aesthetic Meeting:

First, this year we are offering mini-symposia, brimming with insightful education. Register today for:
Aesthetic Breast Reconstruction Mini-Symposium: Chair, Nolan Karp, MD.
Facial Rejuvenation Mini-Symposium: Chairs, Oren Tepper, MD and Jason Roostaeian, MD.
Gender Confirmation Surgery Mini-Symposium: Chair, Marissa Tenenbaum, MD.
Secondly, as you may know, we love a good time, and a good time will be had by all at The Aesthetic Meeting's Presidential Welcome Celebration. In fact, New Orleans has a saying, "Laissez les bons temps rouler," which means, "Let the good times roll!" So come and party with us on Saturday, May 18th at 6:30pm! Follow the crowd heading out from the convention center to the amazing Generations Hall, just two blocks away. There, you'll enjoy an evening of great music, dancing, food, drink, friendship, networking and fun! It also gives us a chance to thank each of you for your support, as we pass the Presidential batons on to Charles Thorne, MD (The Aesthetic Society) and Rob Whitfield, MD (ASERF).
We know that you value the exceptional education you gain each year from The Aesthetic Meeting, and this year promises to be filled with new insights and practice-changing education. Bring your staff as well as we have sessions designed specifically as Practice Solutions to help your practice thrive. See you in the Big Easy!
Read more on www.surgery.org/downloads/microsite/meeting2019/index.php
Thank you,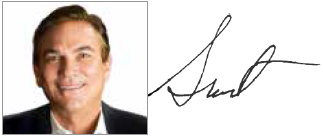 W. Grant Stevens, MD
President
American Society for Aesthetic Plastic Surgery


Julio Garcia, MD
President
Aesthetic Surgery Education & Research Foundation